Established in 1990 in the Oltrarno district of Florence, the Laboratorio continues the tradition of an ancient craft which is historically tied to the city and the Medici family, whose patronage was directly responsible for the birth of the pianoforte itself. Located beside the Accademia Bartolomeo Cristofori, in a building owned by the Fondazione Carlo Marchi, the Laboratorio's work encompasses research and study, restoration and preservation of the early piano. The main circumstances that require restoration include distressed wood caused by woodworm insects, the decomposition of natural glues, and the inevitable time-wrought shrinking, twisting, and curvature of wood.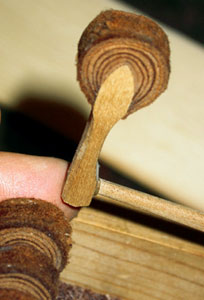 The missing parts of the instruments are rebuilt after a thorough research of historical records which permits a more precise interpretation of the structural details. This research is indispensable for the rebuilding of prototypes as well as for the choice of materials to be integrated in the restoration: leather, fabric, felt. One of the major difficulties is to achieve optimal sound quality which comes from choosing suitable leather to substitute the aged and often deteriorated hammer head covers and the choice of properly woven woollen fabrics for the best quality of touch. Using a software developed at the Department of Musical Instruments at the Hague Museum which calculates the tension of the original strings at various frequencies, it is possible to choose the appropriate metals that are needed to replace worn or missing strings. After the tuning-in and the voicing of the instruments in the Laboratorio , the breaking-in of the early pianos is entrusted to veteran master musicians.
Thanks to the collaboration of other professional artisan restorers, builders, musicians and scholars, the Laboratorio is also an information center specializing in the construction techniques and cataloging of Italian-made pianos.